Music and Choir
We are a singing UU congregation! As an enthusiastic and growing music team, we love it when everyone in the service feels free to clap, move, hum, and sing right out with joy and meaning!
Everyone who loves to sing is invited to be in our choir, The Principle Singers.They practice at least two Sunday mornings a month before worship in our sanctuary. You don't have to know how to read music to be in the choir!!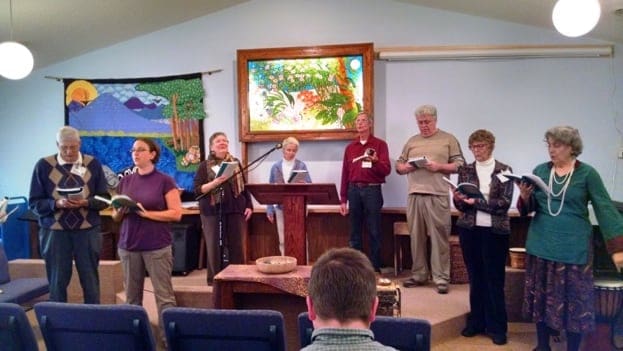 Our team includes musicians who play guitar, banjo, harmonica, and flute, and we welcome anyone with instrumental experience to join right in.
We also perform with Hands Around Aiken – and on Earth Day, as well as for other community events. Our amazing Djembe Drummers often add their speaking rhythms to our worship: Search for them on this website and check them out – they always have extra drums for newcomers!
Our music director, David Brown, is a professional jazz musician. He has a huge classical and pop repertoire, great accompanist skills, as well as a terrific sense of humor!
We hope you will share your voice and spirit with us. For more information, please contact us by email.