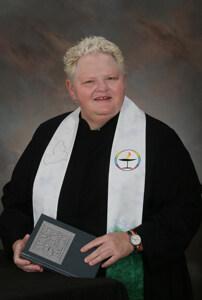 Rev. Debra Guthrie came to us fresh from her internship in Leominster, MA; before she was even ordained. The match has proven to be beneficial to both the church and Debra. She was ordained in Jan 2018 and the church renewed her contract beginning August 2018 with an increase in time to ¾ time and in 2019 Debra became our full-time minister. In May 2022, Rev. Debra became our first settled minister.
Her current ministry has a very southern flavor, relies heavily on story and metaphor; it centers on relationships, vulnerability, and holding tension in the middle.  She received her M.Div. from Andover Newton Theology School in 2015, with an additional certificate in pastoral care. She completed Clinical Pastoral education at Hebrew Senior Life She has a Bachelor's degree in fine arts from East Carolina University. Her concentration was in ceramic sculpture but she abandoned the medium after graduation. She enjoyed a number of years as a relatively successful gourd artist.
She decided to pursue ministry in her late forties after having a myriad of jobs including floral designer, corrections officer and dish washer, among others. She believes opportunities to meet people and make friends across lines of difference as one of the greatest blessings in life.